4 Data Tools All Marketers Need in Their Tool Box
September 21, 2017 | 3 min read time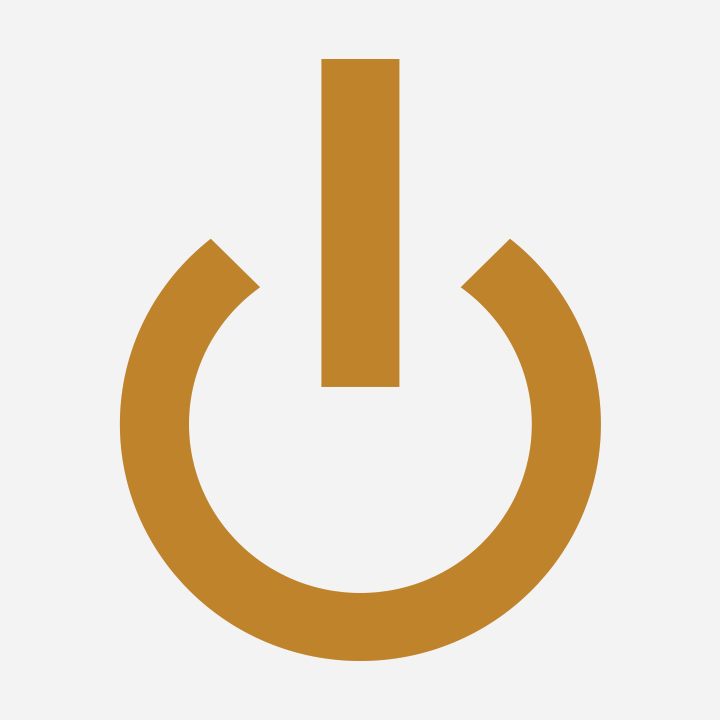 Austin Walker
Marketers, unite! It's no secret that access to information (via the world wide web) is literally out of control. There is information on almost everything you've ever tried to search. And with god-kings of content like Google and Facebook, finding and sharing this information has become so easy. Data marketing and mining has become a way to engage audiences in a more valuable way, and increase their attention.
However, not a lot of the content we're seeing has a lot of valuable information. The flood of content is caused by too many companies trying way to make themselves heard, and it just ends up being either an opinion piece, or just information that people are getting off the top of their head. Instead we need to design an experience.
Data helps to add value to content, gives validity to your arguments, and also helps to support opinions.
Here is a small handful of tools that we'd like to share. Mainly because we care about the survival of really valuable information. Add these 4 tools into your toolbox, and you will never be hungry for data again.
Price: Free, with a Premium @ $49/mo.
Everything from social media to the cosmetics industry or gaming, Statista really helps to give a user all the data they could ever want. Simply type in a subject, and this tool will help you find statistics, forecasts, and studies.
When we typed in marketing, here's what we got: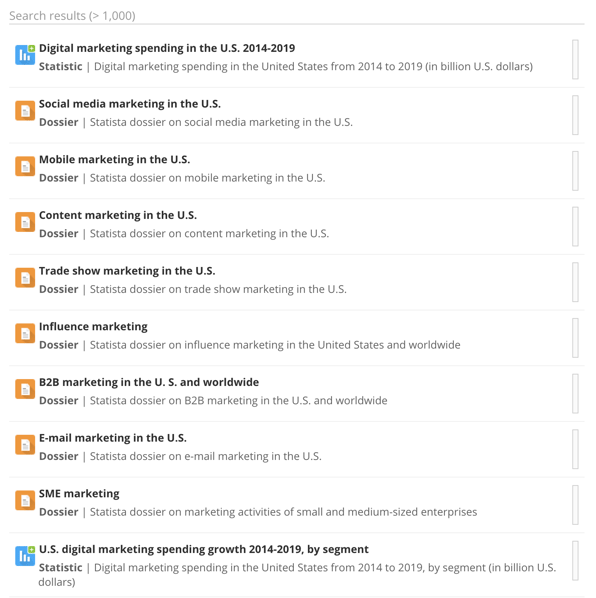 This tool is meant for small businesses and academics, but can be useful for anyone who is looking for information.
All the stats are downloadable so that you can take the data and punch it into your favorite data visualization tool.
Price: Free
Google is, of course, the largest search engine on the planet. So using a tool like Google Trends to really monitor what people are searching, how they're looking for this content, and what should be the next thing you write about (if you want it to go bonkers).
For instance, right now, I should be blogging about my favorite football team, the Green Bay Packers:

For the most popular topics, what is trending well, as well as how often this topic is trendy, give Google Trends a shot. It's really simple to use, and of course, free.
Price: Free
Once again, Google conquers all when it comes to providing us some of the best data in the world for free. If you're a marketer looking for shopping trends with Fidget Spinners, you're in luck: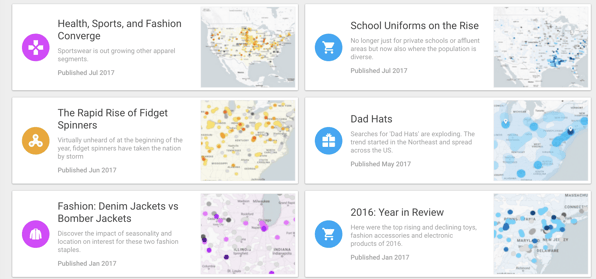 This is just one example of all the data that Google provides, so have a look for yourself. If you're attempting to crack the nut on what your current audience really wants, and how to engage them, this is the first stop.
Price: Free
Hubspot is one of the up-and-coming kings of content for all marketers. If you haven't already heard of them, it's probably time to look them up.
In their research hub, they provide some of the latest marketing, sales, and business data. Reading through most of their content right now, they definitely know what they're talking about.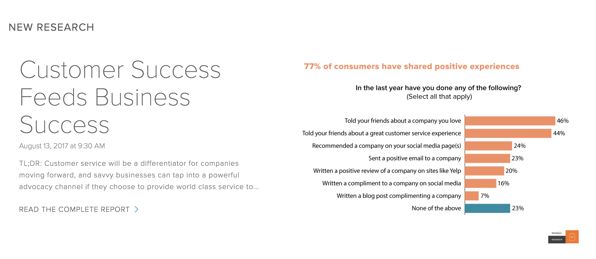 HubSpot's CRM is something we use ourselves, and it is one of the easiest ones we've found. They have a free version of that, too, if you're looking for a dashboard that will monitor your traffic and give you other stats, all in one place.
Marketers have to be on top of new data to make sure that they stay connected to their audience. Losing the audience, or potential customers, is not something you want to do.
Use these resources to make sure that you're staying on top of every trend, and have the best content to write about. Save the internet from a ton of poor content!